Jenn and Bek | 2941 Restaurant Wedding | Falls Church, Virginia
When I first talked to Jenn and Bek, they told me it was the presidential election that led them to decide it was high time to get married.
We've been committed and in love for quite awhile, and had no immediate plans to make it "legal." November 9, 2016 changed that and, like way too many LGBTQ Americans, we felt the urgency to get married to protect our rights as a couple in the new administration. Our loved ones all pulled together to make this wedding happen in 5 weeks, and in a time of stress (and, to be honest, sadness about the clearly and openly homophobic stances by several who would be leading our country), some beautiful things happened. Our friends helped us make centerpieces in their backyard. Jenn's dad got licensed to perform our wedding ceremony. Jenn's mom planned and organized both a beautiful shower and our perfect wedding in record time. And Bek's parents and sisters dropped everything to travel through nightmarish central New York weather to be with us

.
It was an idyllic wedding, with their closest friends and family. The ceremony was led by Jenn's father and had me fogging up my camera viewfinder. Beyond the tears, was laughter and fun. The way Jenn makes Bek giggle will melt anyone's heart!
We sometimes joke that the Rihanna song "We Found Love (In A Hopeless Place)" is about us, but it's true. Doctoral programs are notorious for creating stress, making you doubt and question everything, and for taking up your entire life. But we have to credit our PhD programs (Sociology and Mass Communication at Syracuse University) with bringing us together-we met and fell in love during the fall semester of 2009, and, admittedly, fell behind a bit in our studies because of it. Worth it :)
These ladies were escorted down the aisle by their beautiful mothers. I think it was about here when I started to cry!
That look Bek is giving Jenn when she walks in the room though...
We're now professors at Christopher Newport University, living together in Newport News for three years. So yes, we live together, work together, play together, and still really, really love each other. We think it's a pretty good match.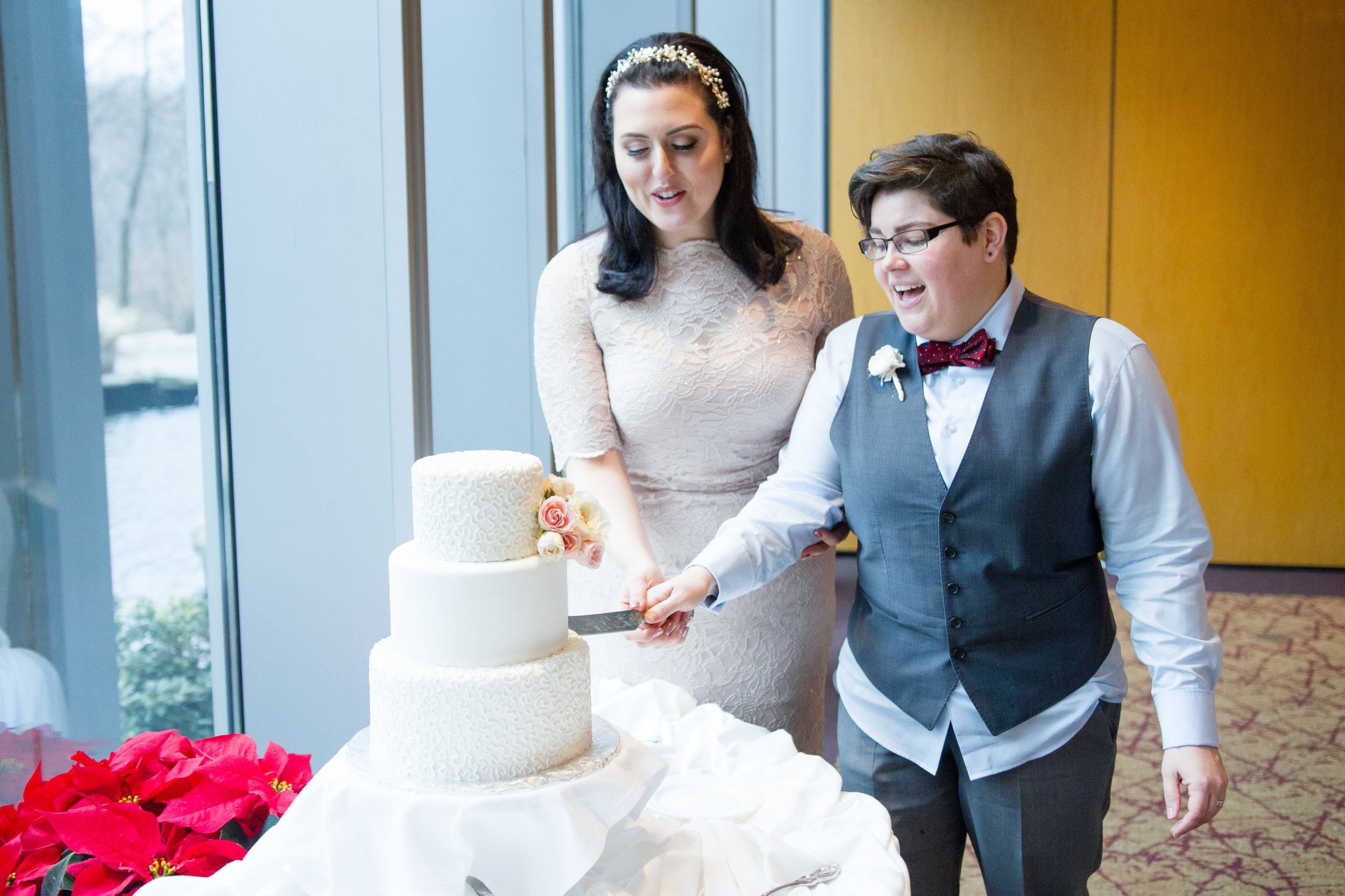 Our wedding also brought us Maral, an absolute light in a difficult time. We knew that we wanted to work with her after one phone conversation-she was so kind and so excited for us, which made us get excited, too! So thank you, Maral, for beautifully capturing what turned out to be a pretty fantastic day!
When these ladies reached out to me, they told me they wanted to not only work together but, after following me on social media, they wanted to also be my friend! Who doesn't like clients who become friends?! I'm so happy I got to be there for this beautiful wedding! Thank you so much to Jenn, Bek and their family! Can't wait to see you both again soon!!